Determining your home buying budget can feel like a complicated process for first-time homebuyers. You know how much you've saved for a down payment, but how do your savings, your income, and other factors, impact how much home you can afford?
Getting a mortgage pre-approval is your first step to finding out.
A pre-approval is a low-risk way to find out what your home buying budget should be. Whether you're exploring shared ownership with Ourboro, or getting ready to buy on your own, this guide will help you prepare for your mortgage pre-approval.
What is a mortgage pre-approval?
You can think of a mortgage pre-approval as a preliminary assessment of your finances.
You will work with a mortgage advisor, from one of Ourboro's third-party licensed mortgage partners, who will look at your full financial picture to find out what amount of mortgage debt you can carry, and ultimately, how much home you can afford. They will collect information around your income and debts and, with the help of their underwriting team, determine the maximum mortgage you qualify for.  See what information your mortgage advisor is likely to ask for here.
After receiving your mortgage pre-approval you'll have a clear sense of your budget and can feel confident beginning your house hunt. Once your offer is accepted on a home just let your mortgage advisor know and they will help you complete a formal mortgage application for the property you wish to purchase.
What will my mortgage pre-approval include?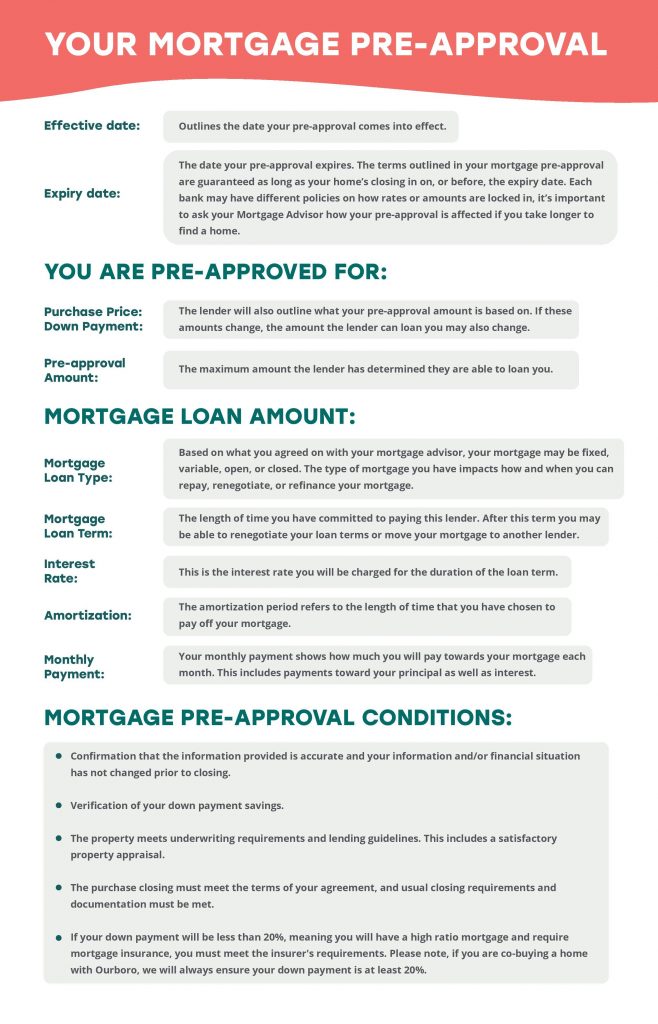 What to keep in mind while shopping for a home
It's always important to remember, the maximum mortgage amount indicated on your pre-approval is not guaranteed. Once you make a successful offer on a home, you will then complete a mortgage application that will go through a formal underwriting process. The final amount that the lender can provide will be based on your mortgage carrying capacity as determined during the pre-approval process, as well details of the property you are purchasing.
Some things that, if changed between your pre-approval and your mortgage application, may impact your final mortgage amount include:
Changes to your employment status, income, or debts.
Purchasing a condo or condo townhouse with maintenance fees if the additional monthly cost were not included in your pre-approval.
Your pre-approval expiring prior to the closing date. This can lead to changes to your interest rate and, as a result, your approval amount.
Once you have a mortgage pre-approval in hand, you can feel confident in your home buying budget and start the search for your new home.
Interested in seeing how much Ourboro may be able to contribute towards your down payment? Get started and see how shared ownership can help you buy the home you want, sooner.